Upcoming Guild Meeting & Program
The February 2023 guild meeting is Tuesday, February 241st from 6:30-9:00PM (see "Meetings" for location and Zoom details). Our featured speaker is Jenny Kae, and her lecture is called "Leave Quilts, Not Fabric".

She has always loved color and been creative, learning garment construction, embroidery and crewel, floral design and knitting. When she started quilting, it brought all theses skills together. She

comes from a long line of teachers. (father, mother, birth-mom), and enjoys the drama and fun of being a part of a production. S

he once worked at a local quilt shop, with customers asking lots of quilting questions. Taking care of those, along with teaching classes and filming videos on how to use various fabric companies' products led her to where she is today.
---
Jenny is teaching an online workshop on Wednesday, February 23 called "Dangerous Curves Piecing". See the

workshop page

for details on how to sign up with Louise Aguilar!
Guest Fee

To attend a guild meeting as a guest, please contact Louise Davidson and Pat Pruuel at membership@southbayquiltersguild.org. The guest fee is $5, payable in person at the meeting or via credit card to attend virtually. Please purchase guest fees at least 24 hours in advance if possible to ensure sufficient time to receive the Zoom link and information for attending the meeting.
Quilt Show 2024's Opportunity Quilt Production Has Started!

Lynn Abelson (1st Vice President) has taken the lead (in collaboration with a quilt design selection committee) to get the production of the 2024 Opportunity Quilt started. At the November meeting (and upcoming meetings), you can select a block to make (the quilt top incorporates a multitude of block patterns - see photo). Your color selection of self-supplied fabrics should be guided by a color swatch handout. It's going to be GREAT!

​If you're not local and/or attending meetings exclusively via Zoom, feel free to contact Lynn directly for an assignment at

1stvicepresident@southbayquiltersguild.org

.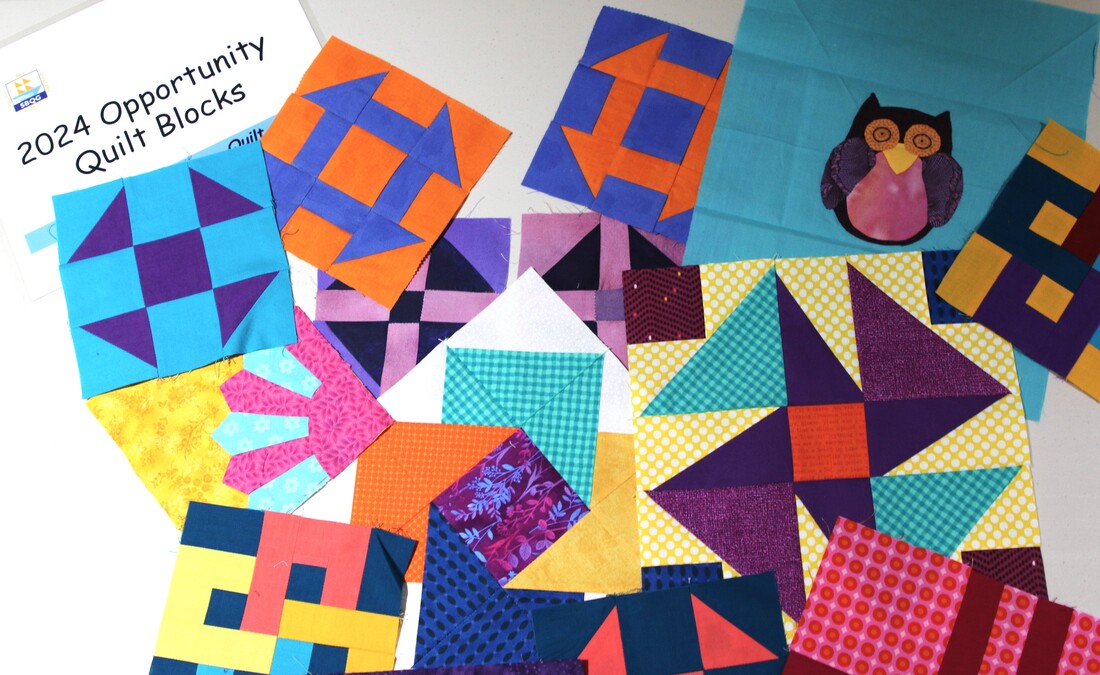 ---
Meals on Wheels Placemat Project


| | |
| --- | --- |
| | See the Placemat page for a status on how many placemats we've made so far and the recipients. Keep sewing because we'll query the other local Meals on Wheels teams in the South Bay for placemat interest and quantity needed. |

WHAT

: Provide placemats to local services that provide Meals on Wheels to seniors in our community.

Placemats will be distributed to each organization as we meet their requirements goals (i.e., number needed for their clients).

WHEN

: Now through early 2023. Turn in at the Guild meetings or Drop-Offs. Or call Pam Overton for delivery or pick up.

Placemats should measure ~ 14 x 18 inches
Binding – tradition binding or simply "pillow case" the placemats as we do our comfort quilts
Design – anything and everything (doesn't need to be "holiday" themed)
Great way to use fat quarters
Perfect for half yard pieces - by cutting carefully you can get three tops/backs from each half yard
Use orphan blocks and add borders to get to 14" x 18"

Some tutorials to get you started:
---
Quilt Block Collection for Ukraine Relief

In addition to our various ongoing

Community Services

projects, we continue to collect blue & yellow blocks to make more quilts for Ukraine refugees.

There are three types of blocks we are collecting: (1) Perkiomen blocks, (2) 16-patch Checkerboard, and (3) Heart blocks.

Please see the instructions on the

Disaster Relief page.

​Return completed blocks to Nadine Kirk.
---
News from Road 2 CA: Opportunity Quilt Tickets Sold and Guild Members' Work Showcased

In exchange for White Glove service (thank you ALL!!), we got to showcase our beautiful 2023 Opportunity Quilt (Bloomin' Fantastic) and sell tickets for its raffle. Chairing the ticket table was yet another way so many of you pitched in and made yourselves available to ensure the quilt gets as much publicity as it can.
Various guild members' quilts were entered into the show as part of the overall juried exhibit or as part of the Southern California Council of Guilds collection. We're proud of each maker who participated in an event of such notoriety. Dale Stuart won an Honorable Mention in her category.