Intra-Guild offers various projects for guild members. The exact nature of the projects varies from year to year and is at the discretion of the Intra-Guild Co-Chairs.
Contact Carol Berg and/or Robyn Wilkes at
intraguild@southbayquiltersguild.org
with any questions.
Guild Year 2022-2023
Quilt Block Project
​To foster meeting other members and making new friends, Intra-Guild is hosting a quilt block project. Small groups will make blocks and put the blocks together to make a quilt top for our community service projects. We're matching up members in groups of 6 to produce six blocks (or you can form your own group). The groups can meet in person or on Zoom to talk about their ideas for the quilt and work out logistics for collecting blocks and getting the top put together. Signups started in February which included your selection of a first, second and third choice of colorways (used to pair people into teams). Afterwards, the Intra-Guild co-chairs will send an email with a list of your team members along with a pattern for the simple 2.5-inch strip quilt block and a setting for the quilt. The finished project can be donated by your block project team for Community Service outreach!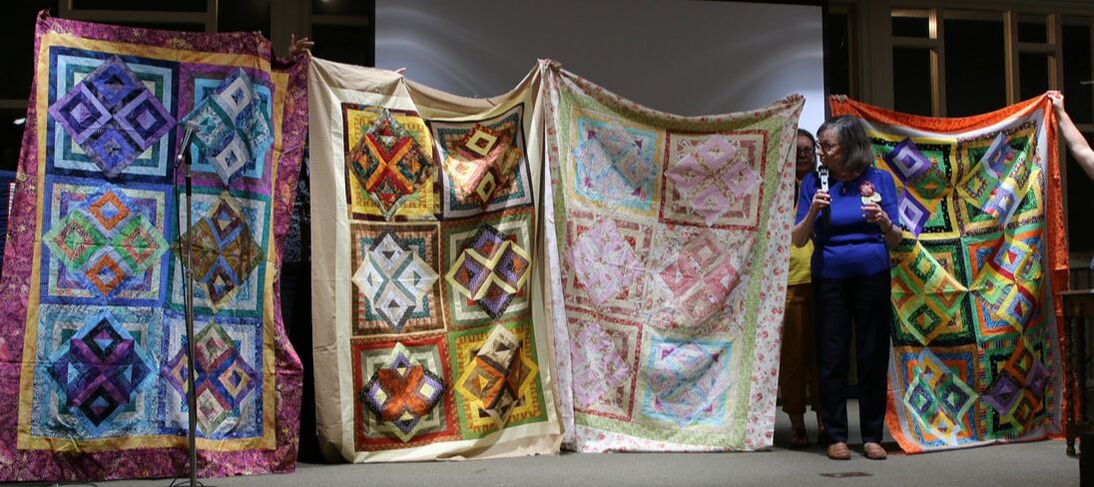 ​Scraps, Fat Quarters and Jelly Rolls
Let's find some fun things to do with your scraps, fat quarters and jelly rolls this year. You can make things for yourself, friends or for the Guild. Every month we will bring some ideas for a project or technique. We wonder if you have patterns calling for fat quarters? Or maybe you have fat quarters but nothing to coordinate? We may have the answer! We have a stack of fat quarters that need one or more of your fabrics to make something. It could be something for the Boutique, the Auction or a Challenge or maybe just for yourself. Come by to see us at the guild meeting and see what we have to offer. You are welcome to bring a few fat quarters to coordinate, but we only want to give you one and not take any of yours. We would love to see what you make, bring it back the following month to share!
Mug Rug Exchange (December 2022)
We had over 45 mug rugs exchanged between members of the guild in December at our holiday party. The recipient specified a color preference or theme, and the makers dreamed up such a wonderful variety of patterns to make, wrap and give. Here is a gallery of some of them (rugs with recipients)!