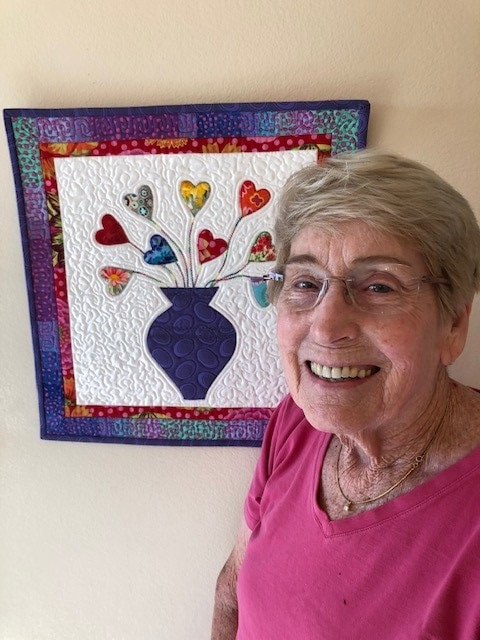 Thank you to SBQG for selecting me as "Featured Quilter". I must note that any skills I enjoy can be directly attributed to growing up surrounded by a family of skilled and talented women who were proficient in any endeavor requiring some sort of needle, sewing machine, brush, hammer, or musical instrument. (Some were also good cooks.)

I began quilting and sewing in grammar school, learning on my grandmother's treadle machine and progressing to my mother's black Singer whose best feature was that it had reverse. After high school I quilted intermittently while raising children and working full time. Following a serious accident in 2001, I was forced to retire from a successful banking career and used my new found "extra" time to more actively pursue quilting.

After many years I finally decided to join a Guild in 2007 and chose SBQG where I was warmly welcomed.

My favorite quilting projects are hand-pieced and hand-quilted. A great advantage of hand piecing is that it allows me to watch sports with my husband while keeping my hands busy. My hand quilting is mostly done on an old-fashioned frame of sawhorses and poles that was originally my grandmother's.
Several of my quilts have won awards at SBQG quilt shows and one was accepted for display at PIQF.
​
I hope you enjoy our "virtual" Quilt Show.

---