Shoulder Tote Bags
​
Description: Lined tote bags with internal and/or external pockets. Various prints and sizes available.
Wine Bottle/Beverage Bags
Description: Fabric bag for wine bottle with single handle. Various wine-themed fabrics available. Perfect for a hostess gift. Fits standard wine bottle.

Gadget Bag with Mesh Sides
Description: 9"L X 3"W X 3"D Mesh zipper bag with open mesh sides. Perfect for travel or keeping track of small items at home or on the go.
Little Wallets
Description: Small wallet with internal pockets and snap closure on the flap. Available in various fabrics in addition to patterns shown. Size: 4"W (at top) to 4 ½"W (at bottom) X 3 ¼" H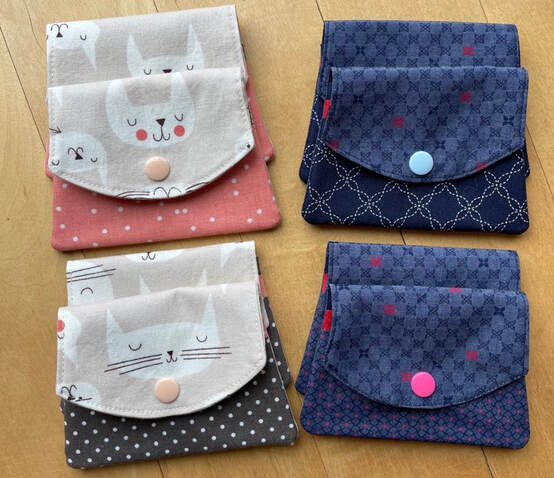 Glam Bags
Description: 6"H X 9"W zipper glam bag made from selvages. Lined, with wristlet or small strap.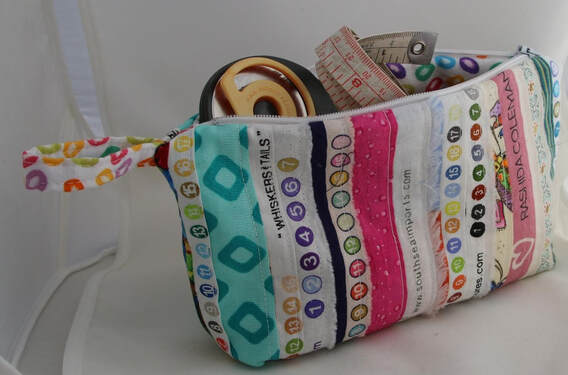 Zippered Bags
Description: 6"H X 9"W zipper bag made from various print fabrics. Lined, with ribbon zipper pull.