The Auction is Sunday, February 19 and offered in-person and on Zoom
(Zoom will open at 12:00 noon; live auction begins at 1:00 pm)
Items available at the 2023 auction are shown below:
Giggle Fish, made by Alita Aldridge
A giggling fish with beautiful fins. All made from an array of beautiful bright colors.
21" x 21"

---

Pickles Too, made by Bonnie Blahut
I love Pickles cartoons. This quilt says it all.
14" x 38"

---

Farmer Boy, made by Susan Gibbs
The little farmer boy material "disappeared" into various patterns on this kaleidoscope technique lap quilt. There is hand embroidery on some of the patterns.
39" x 45"

---

Missouri Star, made by Susan Gibbs

This scrappy 8-pointed red, white and blue star quilt is string pieced on a foundation. It has a narrow blue border flange and red binding. It was displayed in the 2021 South Bay Quilters Guild virtual quilt show. It is free-motion quilted and has a hanging sleeve and label.

36.3" x 37"

---

Happy Honus, made by Lucy Guerrero

The pattern is called "Turtley Cool" from the book "Pre-Cut Strips and Squares" by Annie's Quilting. I had this really cute ocean-themed charm pack for a long time and when I saw this pattern, I knew I had to make it. Robin chose a perfect quilting motif of bubbles and swirls.

54" x 59"

---

Lily of the Valley, made by Nadine Kirk

The Marimekko panel at the center of this quilt and all of the other fabrics used in the quilt were from the collection of Julie Maas, a long-time Guild member who passed away. The quilt is machine quilted using echo quilting and straight lines, with some hand quilting for added texture. I also incorporated the Marimekko selvage in the label on the back of the quilt.

17.5" x 21"

---

Happy Halloween Haunting, made by Pam Overton

Found this cute kit when I was cleaning my sewing room room! The motifs are laser cut so it was fun and easy to put together!

7" x 21"

Stork at Home, made by Barbara Beer
This quilt shows a white stork standing on its nest as you might see in Latvia, France, Germany, Poland, Denmark or other parts of Europe.
10.5" x 17.5"

---

Harvest Bounty, made by Luella Fournell

This fun wall hanging will most certainly put you in the mood for Halloween! The wool applique and embroidery make this a quilt you'll bring out every year!

14" x 21"

---

It's Not Just Black or White, made by Susan Gibbs
This kaleidoscope pattern quilt has various shades of gray and black printed material. The visual interest is composed of several dimensional see-through blocks. I figured out how to make these on my own. Some time later I found a pattern and instructions! I free motion quilted it on my domestic machine.
36" x 30"

---

Wishful Thinking, made by Sue Glass

I'm thinking that I wish the good fairy would come along and make my garden look like this quilt.

39" x 39"

---

I Feel Pretty, made by Nadine Kirk and Julie Maas

The flamingo applique for the center of this quilt was a nearly completed panel made by Julie Maas, a long-time Guild member who passed away. I finished it, added the embellishments, designed the quilt using fabric (some hand-dyed) from Julie's stash and hand-quilted the piece.

11" x 16"

---

Christmas!, made by Pam Overton

This quilt will make a nice wall hanging to enhance your Holiday decorations. The kit was from Shabby Fabrics. I love working with their laser cut kits. Less work for me!

11.3" x 24"

---

Pumpkin Party, made by Luella Fournell

A stack of pumpkins against a dark night sky are here to make you smile, along with their teensy spider friend.

Exhibited at Road to California 2023

10.5" x 32"

---

One Fish, Two Fish...Green Fish?, made by Carol Craft

Oh to be a fish, and have not a care in the world beyond swimming the day away, eating, playing and sleeping.

25.3" x 33"
---
Holiday Table Runner, made by Pam Overton
This was a kit that had long been in my stash. The holly fabric caught my attention and works well with the other fabrics. This will brighten up any holiday table space.
39" x 14"

---
Mickey and Minnie, made by Pam Overton
Ran across this cute panel and decided that with a few borders it would make a great kid's quilt! Who doesn't love Mickey and Minnie? Displayed at Road to California 2023.
41.5" x 48"

---

Home Sweet Home, made by Nancy Payne

The sewing machine is pieced with buttons and thread embellishments.

24" x 15"

---

Peek a Boo, made by Carol Takemoto

A whimsical quilt to brighten a baby's crib or to adorn a toddler's bed. The Peek A Boo quilt is an adaptation of a Desiree's Designs quilt called "Blooming Hedgehog". This quilt uses a piano keys border rather than the 'blocked' border to reinforce the teaching of the colors red, orange, yellow, green and blue.

33" x 39.5"

Red and White Throw, made by Pam Overton

This small area rug is a great size for any bathroom or powder room. Or perhaps you want to use it as a table runner!

27.5" x 19"

---

Early Bird, made by Karen Rakita

This is a Moda kit I purchased during COVID lock down to occupy my hands and mind. It was a fun project. I loved the colors.

42" x 48"

---

Blossoming Bouquet, made by Bonnie Tigner

Blossoming Bouquet is a wall hanging showing the progression from bud to full bloom.

16" x 47"
---
Cardinal Treasures, made by unknown
A hand appliqued table runner with rustic holiday colors.
18" x 66"

---
---

Forest Trails, made by unknownA table runner (or small wall hanging) in soft fall hues.
18

" x 30"

---

Sunbonnet Sue Variations, made by Pat Yee

The Sues remind you of so many things - nurses (hat), Amish (their dresses and black aprons), and nuns (hat and dress style). Imagine them anyway you wish! The technique used is paper piecing.

18" x 19"

---

Tutti Frutti, made by Unknown

Vintage look fabrics in primary colors make a cheerful wall hanging or table runner.

21.5" x 22"

---

Remember Me, made by Valerie Mendenhall

Koala populations in New South Wales and Queensland, Australia dropped by almost half in the last 2 decades due to deforestation, drought, disease, starvation and traffic injuries. After devasting wildfires in 2019 & 2020, Sweet Pea donated $2 from each sale of their Australian animal-themed quilt designs to Koala Crisis and Red Cross Disaster Relief appeals. This tiny piece of art is very tactile, and is a refrigerator quilt with magnets inside. The design is very lifelike.​

6.5" x 10.75"

---

Mini Crazy Quilt, made by Suzanne MillarA miniature antique looking crazy quilted panel using traditional satins and brocades adorned by handwork.
13

" x 10"

---

Puffy Love, made by Julie MaasA high loft baby quilt in colors and fabrics reminiscent of today's popular "Tilda" collection. This piece utilizes a printed panel.
26

" x 41"

---

Joys of Spring, made by Ruby Tabata

The woven wool basket has three yellow and three blue flowers. The red berries add color and draping to the basket. A bird has come to rest and enjoy the flowers. Tiny butterflies flutter about.

18.5" x 16"

---

Ornament Trio, made by Louise Davidson

Each ornament is created with 4 log cabin blocks. The "logs" are in various sizes to achieve a curved shape.

23" x 28"
---
Spring Flight, made by Alexandra Tsubota and Donna Bowker
Inspired by our show's Opportunity Quilt, and re-imagined as a table runner in a rainbow of colors!
46.5" x 19"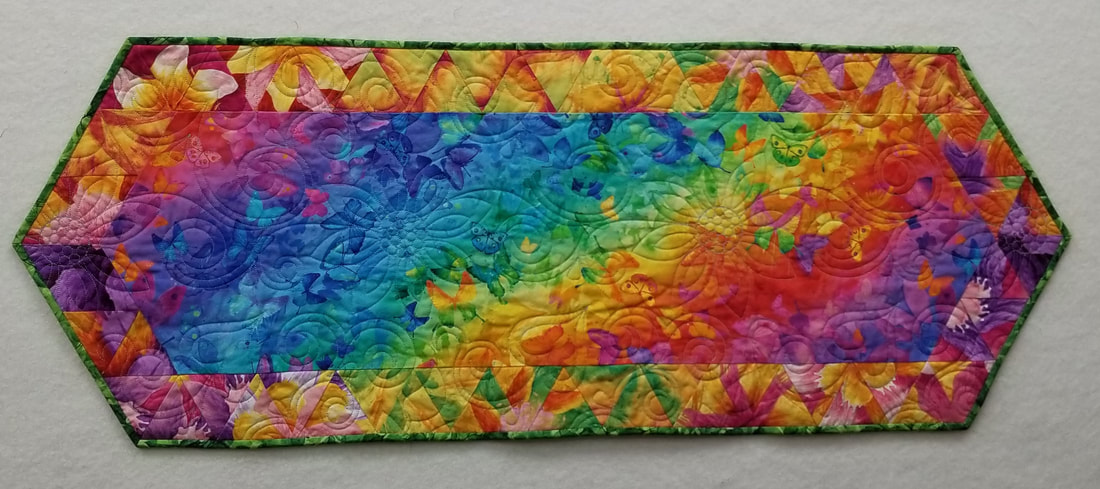 ---
Home is Where the Heart Is, made by Diane Ross

Mary Engelbreit's cheerful characters and sweet artistic renditions bring happiness and warmth to everything!

50" x 51"

A Girl's Best Friend, made by Lucy Guerrero
A vivid set of colors set against black sashing make these diamonds sparkle!
54" x 74.5"
---

Please Come In, made by Sue Glass

This wall panel was designed by Anne Marie Saudo in the style of the Noren that adorn the doors of houses and businesses in Japan. The pattern was published in January 2022 by Quilt Mania Magazine to remember the wonderful Tokyo Quilt Show that for years was a January entry in the Calendar of every quilter in Japan and many other countries, but has since been discontinued.

​

32" x 37"

---

Together Is My Favorite Place, made by Valerie Mendenhall

This velvet pom-pom fringed pillow evokes happy memories of summertime bike rides, which are always better with a friend or a sweetheart. Bicycle fabrics in mint, red, and gray are used for borders, and the back is an all-over Kimberbell navy blue bicycle print. The zipper is hidden underneath a flange on the back for easy access to the pillow form.

14" x 14" (pillow)
---
---