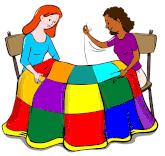 Have more questions? Read on...

Who can enter a quilt? Any current guild member

Do I have to have made the quilt? No, as long as you own the quilt, you can enter it.

What if my quilt isn't done? We ask that the top be complete as of the entry deadline with extremely high confidence that it will be complete by the show.

How many quilts can I enter? You can enter as many quilts as you like, but depending on the number of entrants, it is unlikely more than 3 quilts per person will be exhibited, and that number could be lower depending on the number of entries.

I'm a new quilter, should I enter? Absolutely! We'd love to see a quilt from every member. Variety is what makes a great show.

Will my quilt get in? The goal is to hang each entrant's first choice. Space permitting, additional quilts per entrant will be hung.

What do I have to do to my quilt? The quilt will need a 4" sleeve at the top and a label with the entrant's name and phone number firmly attached. Instructions will be sent with your acceptance letter.

What size quilts can be entered? Any size can be entered, but any quilts longer than ~94" will need a second sleeve added to the bottom (or it will lie on the floor)

Why do you need a photo? The hanging committee meets in early January to plan the layout of the show. The photos are used to plan the layout to best present the quilts. We ask that the entrant be in the photo in case there are questions as to which photo belongs to which entry. We are usually dealing with 130-150 photos/entries, so sometimes there are glitches. We promise the photo will not be posted anywhere.

What if my quilt isn't square? Please discuss any special hanging needs with the quilt show chairs

What if I have to pull my entry?

Your entry can be pulled with no issue before January. After that, the committee will have planned the layout and will have to scramble to fill the space allocated for your quilt. We do understand that there are sometimes circumstances beyond your control, so notifying the hanging chair as soon as possible is greatly appreciated.

Convinced?
Ok great! Click on the button at the top of the page and tell us about your quilt! We'll take care of making signage to hang with your quilt at the show.