Workshops are usually held the day after the Guild Meeting.

Unless otherwise noted, workshops are held at Palos Verdes Public Library.

Note: The program team is working to bring speakers and workshops to the guild in spite of the obstacles we have been thrown recently. Linda Sullivan from Colorwerx will speak at the August Guild meeting. If we have at least 10 students and can find a venue that can accommodate the required social spacing, we are still planning to have the August 19th Workshop. We have 8 people that have expressed interest in attending the class, please contact Mary Jane Jewell, no later than July 10th, if you are interested. We need to have at least 10 students by that date in order to schedule the class.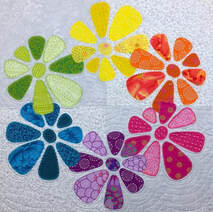 August 19, 2020 -Linda Sullivan
Applique Stitch Lab

"Applique Stitch Lab" with Linda Sullivan Loaded with super practical tips and tricks, this workshop is a great way for students to learn or brush up on easy machine appliqué. Students will learn a variety of methods to prepare their shapes for appliqué and perfect their own "unique machine appliqué stitch" during class. Along the way, they'll also learn how to use a variety of fun decorative stitches to texturize their appliqués and gain the confidence they need to appliqué the day away! Daisy or Garden Flower pattern is included in workshop fee.​
---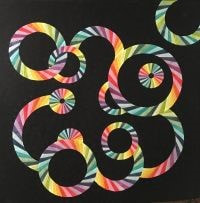 ​
September 16, 2020
-
Colleen Granger
Rings of Change
Rings of Change" with Colleen Granger The Rings of Change pattern can be customized to your liking. Pick fabrics that you like. Need 18 - fat 1/8 yards (9" x 20") of fabric. This project can also be done using a 2 1/2" strip pack. No two quilts will be alike. Pattern is included in the workshop fee. Kits available for purchase – details to follow. Template sets will be available for purchase - $10.
---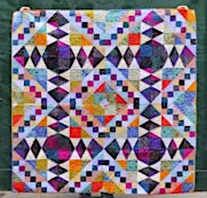 November 18, 2020
-
Tiffany Hayes
Caliope Quilt
"Caliope Quilt" with Tiffany Hayes Learn how to use The Goddess Tool to create Half Square Triangles, Tall Triangles, Half Tall Triangles and Corner Cut-Aways. The pattern is included in the workshop fee. The Goddess Tool is available for use during class with option to purchase.
---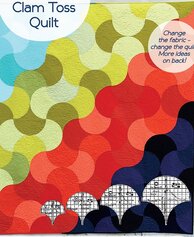 Date TBD - Workshop
Clam Toss Quilt
Clam Toss is a clamshell layout with a twist. The clams are turned in every direction! Learn tricks and
tips to piece 8'', 10' or 12" clams in
any size quilt you like. Bring your own Clammy template or buy them in class
​
---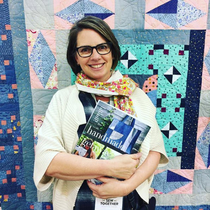 Date TBD - Workshop
Fundamentals of Quilting
​
Learn the fundamentals & best practices of basic quilting from Victoria Jung
---