Welcome to our auction site! Scroll down to see photos and descriptions of the items up for bid this month. The auction will be will held directly following our monthly guild meeting. Although our virtual meetings are members only, anyone can enter a pre-bid. Here's how:
To place a pre-bid, contact me, Mary 310.612.4180 talk/text or <
mshadbourne@socal.rr.com
> with the item number, description, and the highest amount you would be willing to bid for that item. I will bid on your behalf, beginning with an initial low bid, and increasing it if necessary. For example, you might say, Item #2, Embroidered Blocks – up to $30.00. I would place your opening bid at $10.00 and increase it in $5 increments until you either win item for $30.00 or less, or you lose it to a higher bidder. (It is possible, in this scenario, for you to lose an item at $30.00 if a rival bidder gets to $30 before you do.)
​
September Auction Zoom previews are scheduled for Wednesday 9.9.20 at 5pm and Thursday 9.10.20 at 11am. Contact me for an invitation to one or both of these previews, or to arrange a personal preview.
Auction #1- 15 Adorable Sunbonnet Sues

These precious Sunbonnet Sues feature the best work of familiar current and former members. Each block is a creative gem. The one shown here is a sample; all the blocks will be shown at the auction, and at previews.

• All but one measure 13 5" square.
• Appliqued, embroidered and embellished.
• Dated 1995. From a SBQG friendship group: I'll name names at the auction, and at previews.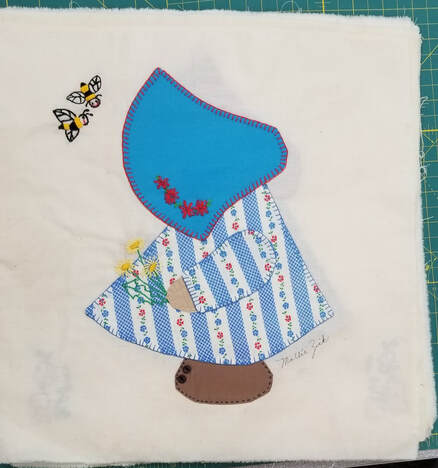 Auction #2 - Almost Finished Quilt Top UFO

• So far, measures 49.5" square.
• Extra fabric plus 46 half-square triangles, 4.5" square.


​Auction #3 - ​20 Sampler Blocks

• 60s - 70s calico. Muslin background
• Hand pieced.
• All approximately 14.5" square.
• Main colors, yellow/red.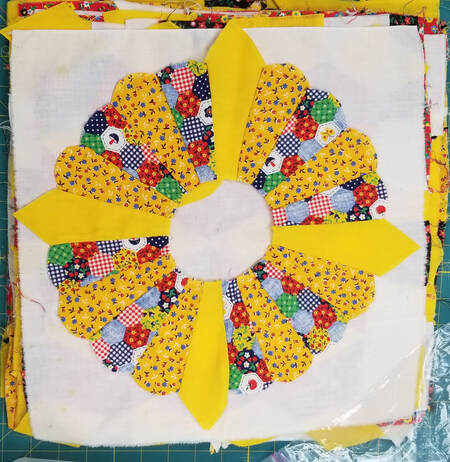 Auction #4 - Merry Christmas Wallhanging Kit

• Complete. Includes panel, batting and backing.
• Finished will measure appx 36" x 42".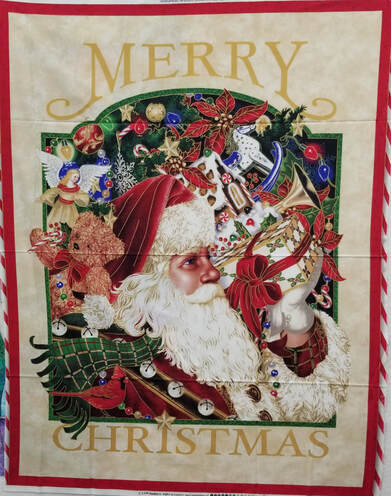 Auction #5 - More Peruvian Folk Art

• Twelve little quiltlets (each 5" square) tacked to a burlap background.
• Embroidered and embellished.
• Entire piece measures 19"x27"
• More details will be shown at the guild meeting and at previews.


Auction #6 - Baltimore Album Sampler Kit

• Design by Judie Rothermel, School House Designs
• Finishes to 60" x 60"
• Template plastic included.
• Looks complete.
• No batting or backing.
• Originally sold for $54.95.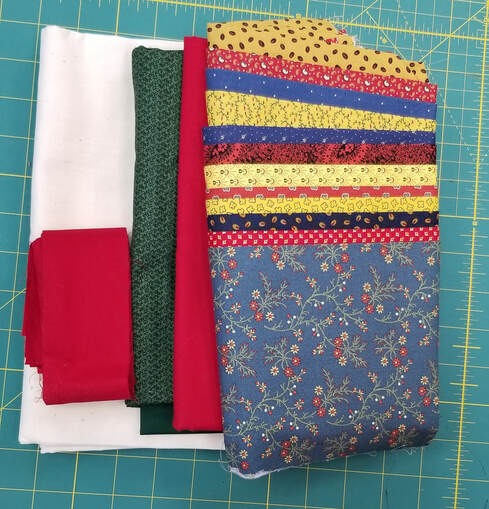 Auction #7 - Framed Cross Stitch "Sampler" Interior Scene

• Total measurements: 19.5"x17"
• Double matted under clear glass
• Find a wall where you can see it up close... maybe in a hallway or an entry... or right above your ironing board.