Face Mask - patterns and places to donate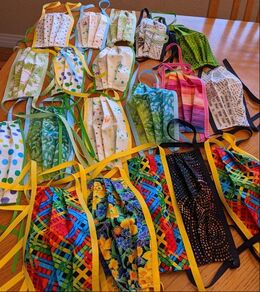 Places to Donate:
A
list
continually updated
of facilities requesting masks which is searchable by area. Be sure to find out what style of masks (ties vs. elastic, etc.) are requested before making them.
---
Local Contacts:
​
City of Hope
, 23550 Hawthorne Blvd, Torrance (phone d# 310-373-2636)
The hospital would be very grateful to receive any masks that we could make for them. They will be used under the new face shields that they now wear daily. Drop them off at the front door security guard with a note saying what they are and who they are from (South Bay Quilters Guild).
Home Instead Senior Care
in Torrance. Contact Nadine Kirk to deliver them.
Washable face masks to be used by 150 caregivers as they visit patients in their home. They prefer the
"nurse mask" style
(blue and white photo below) with ties, but will accept whatever is available.
Member Louise's daughter requests tie-style masks. Send masks to: Carrie N. Aguilar, MD FACOG - Division Chief Women's Care Center - Dignity Health Medical Group -
St. Joseph's Hospital and Medical Center
- 500 West Thomas Road Suite 720 - Phoenix, Arizona 85013
Barlow Respiratory Hospital
near Dodger Stadium would also like the tie style. Please contact Donna Bowker to deliver them.
Kaiser ER, Harbor City Hospital
(attn: Anne Ruthkowski). Contact president@southbayquiltersguild.org for phone/address. Any style is fine.
Kensington Assisted Living
in Redondo Beach. Contact Nancy Green for delivery information. Any style is fine.
Joann stores
is collecting masks of any kind.
Providence Hospitals
(requires picking up supplies); register on their website to find a participating hospital near you.
Pattern Ideas (click on the photo to go to the tutorial) and related notes below:
Video

tips from

The Fabric Patch

about

materials

to use in making face masks. ​

Easiest DIY mask! Folded from a scarf and hair ties.
For those of you who want more information or are "numbers people":
Video

Dottie Daybell received from a physicist friend:

...a careful compilation of the efficacy of masks in different countries by a couple of qualified people. The use of masks, even the sort you are making, basically stopped the growth of infections in the Czech Republic, Taiwan, and North Korea.

It is a little long, but worth skipping through, especially the case of Czech Republic and Taiwan. In summary:

- paper/fabric masks protect you from other's droplets and others from your droplets in normal settings (like grocery shopping)

- wash your mask after using/sterilize by putting in a 160° oven for 30-60 minutes

- respirator masks (N95 and up) are needed by people performing medical procedures where the droplets become aerosolized

​

​Cases per 1,000,00 in population density. This

graphic

is interesting because it isn't the total number of cases in a country that is important, it is what

percentage

of the citizens have been diagnosed with it.

In countries where wearing a mask is "normal" or has been encouraged, the infection rate is much lower.