Welcome to our auction site! Scroll down to see photos and descriptions of the items up for bid this month. The auction will be will held directly following our monthly guild meeting. Although our virtual meetings are members only, anyone can enter a pre-bid. Here's how:
To place a pre-bid, contact me, Mary 310.612.4180 talk/text or <
mshadbourne@socal.rr.com
> with the item number, description, and the highest amount you would be willing to bid for that item. I will bid on your behalf, beginning with an initial low bid, and increasing it if necessary. For example, you might say, Item #2, Embroidered Blocks – up to $30.00. I would place your opening bid at $10.00 and increase it in $5 increments until you either win item for $30.00 or less, or you lose it to a higher bidder. (It is possible, in this scenario, for you to lose an item at $30.00 if a rival bidder gets to $30 before you do.)
​
October Auction Zoom previews are scheduled for Wednesday 10.14.20 at 11am and Friday 10.16.20 at 5:30pm. Contact me for an invitation to one or both previews, or to arrange a personal preview. At previews, you will be able to see additional detail photos and descriptions of the auction items for the month.
Auction #1- Holiday Tidings Complete Kits

• Block of the Month Row by Row
• 12 Steps, 12 months
• Finishes to 78" x 90"
• All fabric included.
• Steps 1 and 2 have been started.
• Jo-Ann 2000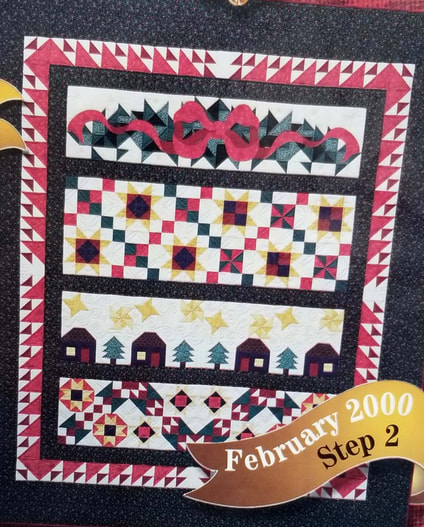 Auction #2 - Cabana Quilt Kit

• Ocean Blue variation
• 63" x 74"
• Originally sold for $59.83
• Colors are brighter. See a preview.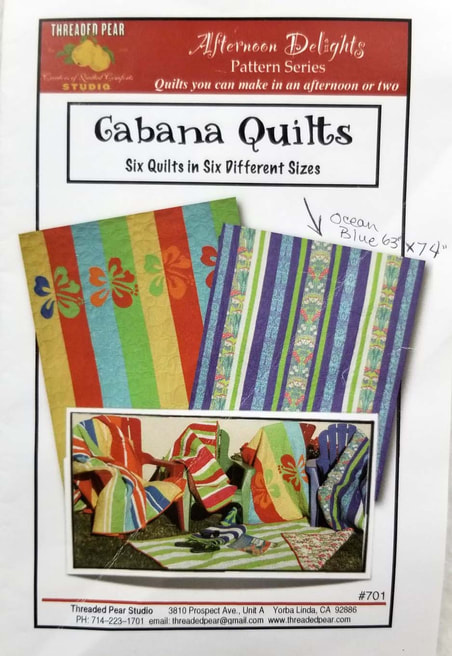 ​Auction #3 - ​The Kittens Project

• All the fabric to complete "The Kittens" quilt.
• Lots of fabric, dark gray background.
• See the fabric at previews.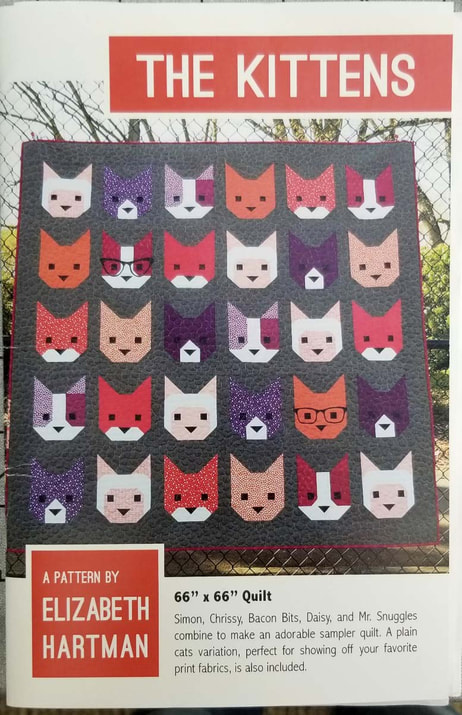 Auction #4 - Star-a-Day UFO Collection

• Piles of these exquisite tiny star blocks
• Lots of extra fabric
• Little star template set included
• Many extras, described in previews.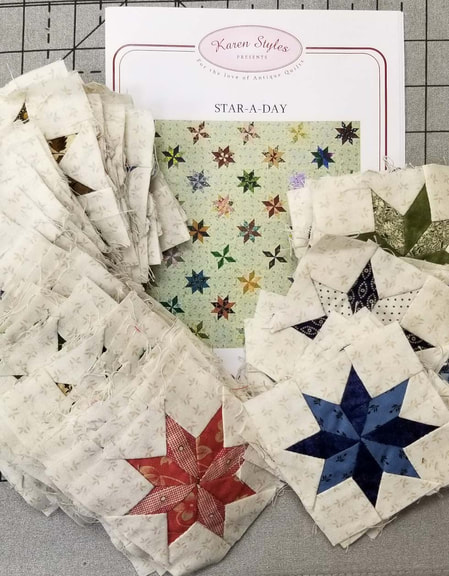 Auction #5 - Casablanca UFO Collection

• In a book with six other patterns.
• Christmas themed fabrics, raspberries, greens, gold(ish).
• Strips are cut and ready to sew.
• Binding fabric is included.
• Finished quilt will measure 77" square.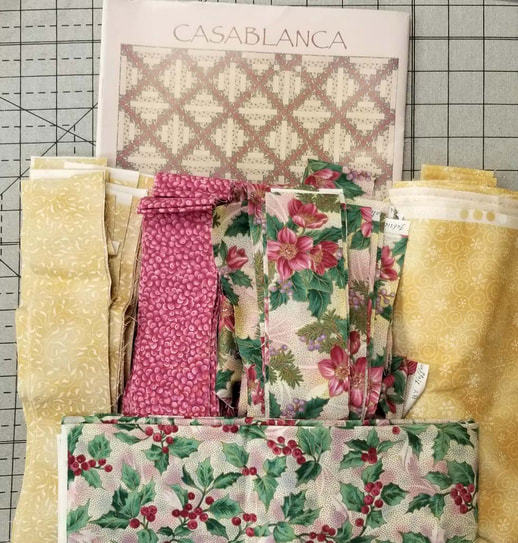 Auction #6 - "Bear Family Album" Kit Set

• Block of the Month 1997
• Pattern by Linda Howell
• Each month's kit sold for $10.
• Includes all the fabrics for applique.
• Backgrounds are various creams.
• Finished quilt will measure 52" x 78".
• No color photo available catch a preview for fabric photos.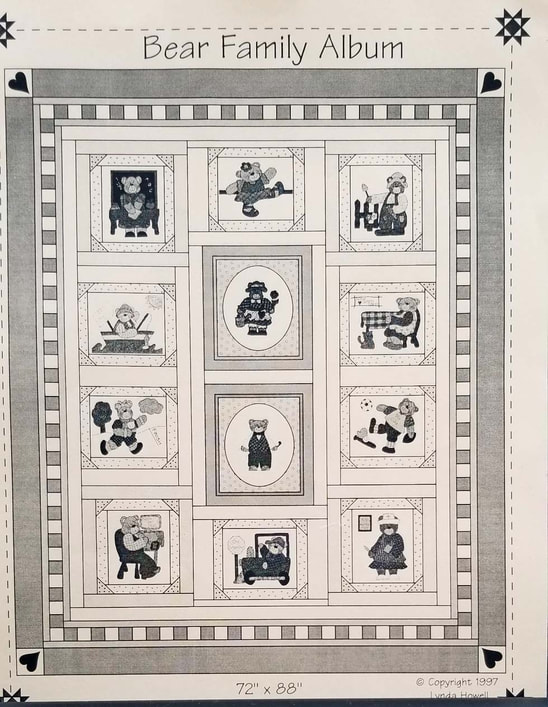 Auction #7 - Doily Hearts Quilt Top

• Includes backing fabric.
• All the hearts are doilies.
• Closeups can be seen at previews.
• Finished quilt will measure 64" x 78"